Stevenson & Sons Funeral Home
1717 Main Street Miles City, MT 59301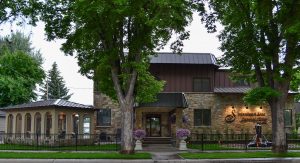 Office Hours: Mon-Sat (8am – 5pm)
Telephone Number: 1-406-232-4457
24/7 toll free: 1-800-775-4460
Fax Number: 1-406-234-0078
Click to view a map of this location
Stevenson & Sons Funeral Homes' main office is located in Miles City, Montana. Founders, Dale and Marlene Stevenson opened their first funeral home at this location in 1962.
Take a virtual tour~


Miles City's newest event venue, Stevenson Reception Hall
Formerly the Bullis-Graves Memorial Chapel, located across the street from Stevenson & Sons at 1806 Main Street in Miles City, the renovated, remodeled, decorated and appointed Grand Parlor is the perfect place for any event. Click here for more information.