More and more people are realizing the advantages of
prearranging their funerals.
The process is simple, and the benefits to the loved ones who are left to handle the arrangements are well recognized. Some of the benefits of prearranging are:
Pre-planning allows you to express your own wishes
It means that your loved ones will not have to make a number of important decisions during a time of mourning
Your funeral plan is transferable, in case you move away
It relieves your family of the financial burden
It allows your loved ones to spend their time comforting each other during a time of grief, instead of concerning themselves with the specifics of the arrangements
When pre-planning, there are both guaranteed and non-guaranteed plans available to choose from
It allows you the opportunity to discuss your final arrangements with family members to ensure clarity, and to ensure that those responsible are comfortable with all of your decisions
While there are several advantages to paying for all or part of your final arrangements during pre-planning with us, it is not necessary. Like everything else about pre-planning, paying for final arrangements is deeply personal and should conform to your situation and wishes. Many people prepay only for their monument and/or their casket. Since these items customarily increase in cost every year, prepayment is a practical way to minimize the costs that the family will be responsible for. We have several attractive options available for dealing with prearranged final expenses, and we will gladly review and discuss them with you to find the best one for you.
To see a list of the most commonly asked questions about final arrangements and pre-planning, view our FAQs.
Stevenson & Sons Pre-Planning Specialist – Lynn Anderson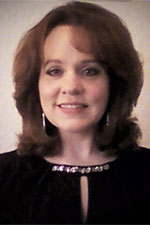 Lynn and her family moved from Columbus, MT to Terry, MT in July of 1981 where she and her 2 siblings all graduated from THS. Lynn has resided in Miles City for the past 30 years while raising her son, Jared. Lynn worked as an Advertising Sales Consultant and graphic designer for 20 years at the Miles City Star. Six months after her mom passed away in 2014, she joined Stevenson and Sons Funeral Home as a Family Service Counselor. Today, Lynn helps families in our community and the surrounding area to effectively preplan their own services. She feels very fortunate to be able to help families have peace of mind knowing their loved ones will be taken care of. In her spare time, Lynn enjoys being with family and friends, traveling and working on projects around her home.

We recommend this website: WhyPreplan.org
Learn how pre-planning your arrangements can
give your family a gift they'll never forget – peace of mind.
Our Custom Online Pre-Planning Form
You may begin the pre-planning process online now, in the comfort of your own home, by filling out our online pre-planning form – click here to begin the process. A staff member at Stevenson & Sons will contact you very soon after we receive it.
You can also download a pre-planning form, print and fill it out when you are ready.